Saturday, September 3, 2011
I have a secret to share.  I had never tried Red Velvet before working at Sprinkles.  I didn't even have much knowledge on this wildly popular flavor.  Not a clue that vinegar was used in a cupcake recipe.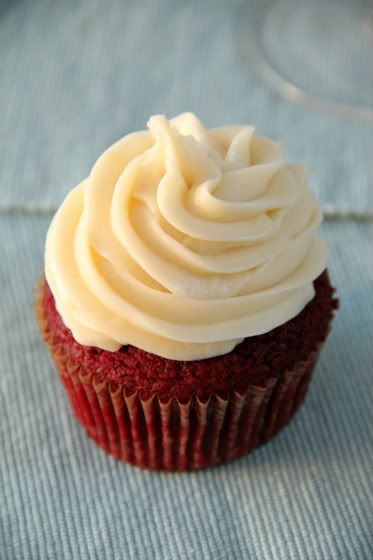 At Sprinkles, red velvet  is their #1 seller; customers order them by the dozen, bypassing other flavors like banana dark chocolate.  How do you pass up banana dark chocolate?!  Now that's a cupcake!
Another favorite of mine is the ginger lemon.  It's pure genius.  Come in when I'm working and I'll let you have my free cupcake for the day to try and I know you'll agree with me.
Back to what this post is all about.  (I get sidetracked so easily. I blame it on the lack of sleep.)  Red Velvet.  If you're a red velvet fan, I've got a recipe for you to try.  I took Paula Deen's recipe and tweaked it a bit to my liking.  I'm even thinking of changing up the vegetable oil and buttermilk ratio, so once I try that option and if I like it better than this, I'll be sure to post about it.
I am ready for fall to be here.  It's pretty much my favorite time of the year.  I'm also ready for the holidays: Halloween; Thanksgiving; Christmas; New Years.  I'm ready.  I'm ready for sweaters, family, food, gatherings, pumpkin spice lattes.
What's your favorite time of year?
Red Velvet Cupcakes with Cream Cheese Frosting

Yield: 24 cupcakes

Prep Time: 20 min

Cook Time: 20 min

Ingredients:

2 large eggs, room temperature

1 cup buttermilk, room temperature

1 1/2 cups vegetable oil

2 tablespoons cocoa powder

1 teaspoon salt

1 teaspoon baking soda

1 teaspoon cinnamon

1 1/2 cups sugar

2 1/2 cups all-purpose flour

2 tablespoons red food coloring

1 teaspoon red wine vinegar

1 teaspoon vanilla extract

Cream Cheese Frositng:
1 pound cream cheese, softened

2 sticks butter, softened

1 teaspoon vanilla extract

4 cups sifted confectioners' sugar

Directions:

Preheat the oven to 350 degrees F. Line 2 (12 cup) muffin pans with cupcake liners. In a medium mixing bowl, sift together flour, baking soda, salt, cinnamon, cocoa powder, and sugar. In a large bowl gently beat together the oil, buttermilk, eggs, food coloring, red wine vinegar, and vanilla. Add the dry ingredients to the wet and mix until smooth and thoroughly combined.

Divide the batter evenly amoung the cupcake tims about 2/3 filled. Bake in oven for about 20 to 22 minutes, rotating the pans once. Test cupcakes with a toothpick for doneness. Remove from oven and cool completely before frosting.

Cream Cheese Frosting:
In a large mixing bowl, beat the cream cheese, butter and vanilla together until smooth. Add the sugar and on low speed, beat until combined. Turn the speed to high and mix until very light and fluffy.