Friday, April 1, 2011
I'm so proud of these little beauties! They don't even need an introduction.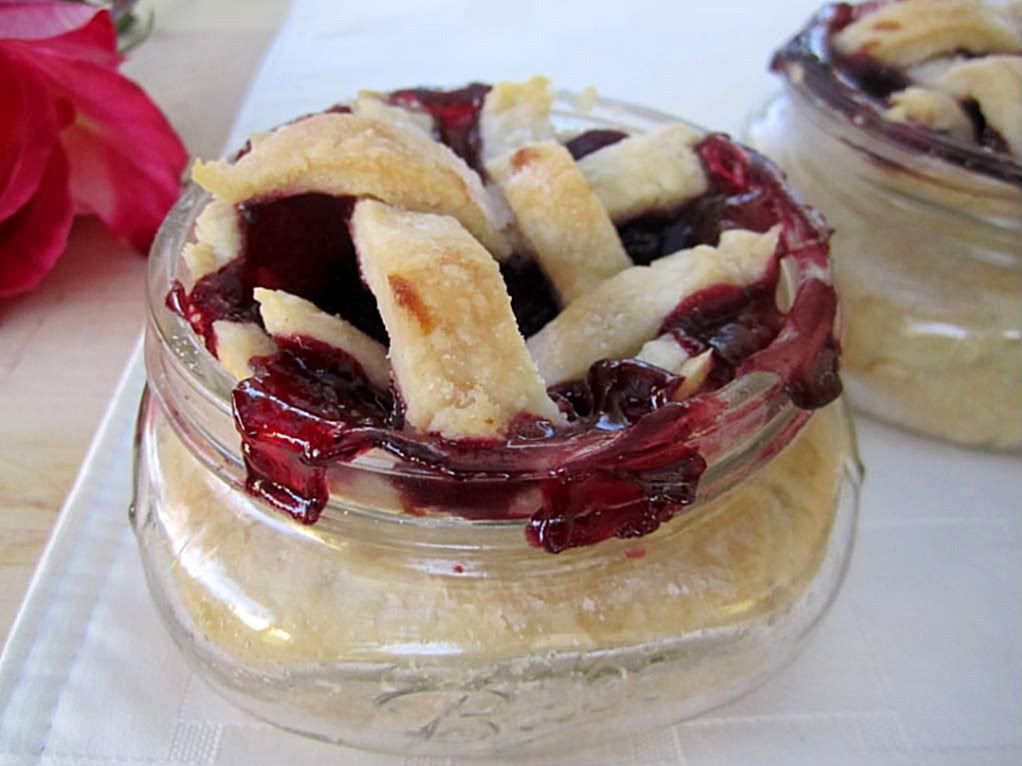 Cherry Pie-In-A-Jar

Ingredients:

Cherry Filling:

5 cups fresh or frozen pitted cherries

Juice of 1 lemon

1 cup of sugar

3 tablespoons cornstrach

1/4 teaspoon ground cinnamon

1 tablespoon almond extract

Pies:

Pie crust recipe making 1 (9-inch) pie crust or use a store bought variety

4 tablespoons cold butter, cubed

Sugar for topping

Ingredients for Pie Crust:

1 1/2 cups flour

1/2 teaspoon salt

3/4 cup (1 1/2 sticks) unsalted butter, cut into small pieces, chilled of frozen

4 to 6 teaspoons ice cold water

Special equipment: 4 1/2 pint oven safe glass jars

Directions:

Directions:

To make pie dough:

Preheat oven to 400 degrees F. (specific to this recipe, for larger pies it would be 425 degrees F)

In a mixing bowl, mix together the flour and the salt; cut or work the butter into the flour with your fingers or a pastry blender until you have large pea sized chunks scattered throughout.

Add the ice water slowly while stirring with a fork until just combined. Be careful not to overwork the dough. Wrap dough in plastic wrap, flatten into a disk and refrigerate for at least 15 minutes. If you need here with pie dough, go here. Scroll through the videos until you come to "Perfect Piecrust". You'll get a quick how-to.

For the cherry filling:

In a heavy-bottomed skillet cook fresh or frozen cherries and lemon juice over medium-high heat, stirring, until slightly softened, about 2 minutes. Add the sugar, cornstarch, and cinnamon. Bring the mixture to a simmer, stirring, until thickened, about 3 minutes. Remove the mixture from heat, stir the almond extract into the cherries and cool.

For the pies:

Roll out the dough on a well-floured surface. Use a 6-inch inverted pie plate to cut 4 circles that will line the inside of each 1/2 pint glass oven-safe jar (I eyeballed it). Working with the dough as little as possible, make sure that the dough covers the surface area inside the jar with the exception of a 1/2 inch at the top. Use the remaining dough to cut strips to make a lattice pattern for the pie tops.

Once each jar is lined with pie dough, fill each with 1/2 cup of cherry pie filling. Place a small pat of butter on top of each pie and top with the pie dough strips to make a lattice pattern.

Brush each pie crust with the melted butter and sprinkle with sugar. Bake 40 to 45 minutes or until the crust is golden brown and filling is bubbly.
Straight from the oven. The cherry pie filling looks so bubbly and delish!